CBitss Technologies located in Chandigarh, Sector 34A. We are the Leading Training Institute offers certification oriented Web Designing Training in Chandigarh. Our colleague will be eligible to clear all type of interviews at end of our sessions. We are building a team of Web Designing trainers and participants for their future help and assistance in subject. Our training will be direct on assisting in placements as well. Our Web Designing Courses in Chandigarh Course Fees is very moderate compared to others. We are the only Web Designing training institute who can share video reviews of all our students. We specified the course timings and start date as well in below.
Best Web Designing Training Course in Chandigarh
We are leading web designing training Institute in Chandigarh. Get the best web designing Course in Chandigarh. All our web designing trainers are very professionals and love to share their businesslike knowledge with the students. Our web designing trainers understand the freshers & working professional's requirement very well.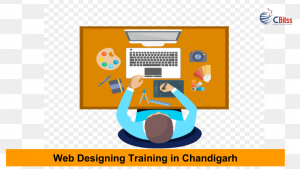 Benefits of learning web designing –
Web development has always been an elemental and central part of the internet.
Since it has overtaken all other business portrait and has become the most compelling business model, the demand for skilled web design has increased naturally.
By learning HTML, CSS, Bootstrap, Adobe Dreamweaver, jQuery and third party APIs you can put yourself in the company of elite panel of web builder. Web development is more like an art and is only limited by the awareness of the developer. It will increase and enhance with time and practice. There is no end.
Web Designing Training course objectives:
Introduction to Web designing
Careers in Web web designing and Job Roles
How the Website Works?
Client Side Scripting and Server Side Scripting
Domains & Hosting
Static Website Designing And Dynamic Websites
PHP MySQL Web Designing & Developer Syllabus
Why choose CBitss Technologies  as a Top web designing Training Institute in  Chandigarh Sector 34A?
CBitss technologies has best experienced and .
More than 1000 students already completed this courses & secured a job.
We have lab facility To make students comfortable while learning.
Each student is given a desktop to practice all over the course.
CBitss has tied up with many companies & consultancies to provide placement assistance for our students.
And moreover our trainers are very helpful & they will help you with most expected Web designing Interviews question and answer.