Today is a day of celebration at CBitss Technologies, All staff members were really excited for Birthday celebration of Strong pillar of CBitss Technologies Mr Sumil Sharma, Who is known for his designing and Teaching skills , He has around 8 years of experience in the same.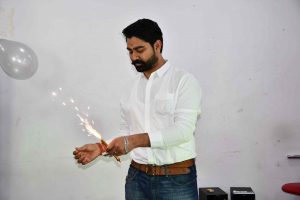 Staff of CBitss technologies decorated the ceiling with paper buntings, bells and stars. They blew balloons and hung them all over. Doing that was great fun as some of the balloons bursted while blowing and others refused to stick to the wall. For some fun, they also kept a few birthday caps. They placed floating candles on the table where the cake would be kept and then put an extra table to keep the eatables.
Next they spread out the disposable cups, glasses and plates. The snacks were served in the dishes. Sweets and samosa were kept in the kitchen with a sauce. Wafers were kept on the table.Cold drinks were kept in the refrigerator. Almost everything was ready by 5:00 p.m.
The party started at 5: 30 p.m and all of this was Kept as a surprise for Mr Sharma hopefully he would be very happy to see all the stuff.