Introduction to Accounting
Objective :-
What is accounting?

What is the importance of accounting?

Definition of accounting

Accounting rules and rewards
Accounting :-
Accounting
is a process that involves understanding, recording, summarizing and reporting the business's
financial information
, which makes it easier to make decisions in terms of financial statements.
 Advantages of Accounting :-
Advantage of the following accounting –
1) By accounting we can understand that there is a profit or loss in a particular period.
2) We can understand the financial position of business
There are so many properties in business

How much is the loan on business.

How many capital is there in business
3) Apart from this, keeping accounting can understand the reasons for the profit or loss of business.
With the benefits given above, we easily understand that accounting is the business's business.।
Definition In Accounting :-
While learning accounting , we have to use certain words regularly. So first we understand the meaning of these words –
1) Goods: – Goods are bought and sold mainly in the business. For example – in a grocery store there are soaps, oils good. Depending on the purchase of profits and the sale of goods.
2) Assets: – Assets are valuable things that are necessary for business and business wealth. For example – Building, Weekel, Machinery, Furniture.
3) Liabilities: – Liability is given to business by others. For example – loan taken from the bank, purchase of goods on credit.
4) Capital: – Capital is the capital invested by the business owner. It is in the form of a capital cash, goods or assets. When this capital is invested by the business owner, then according to the business, this capital is also a liability.
5) Debtor: – The business which has to take a certain amount of money, is called Debtor.
6) Creditor: – Those who have to pay certain amount to our business are called creditors.
7) Business Transaction: – A financial event that is related to business and whose impact falls on the financial position of the company. For example – Selling goods on the purchase, salaries and credit of goods.
8) Cash Transaction: – Transactions that are made in cash are called cash transactions.
9) Credit Transaction: – The transactions that are done on the transaction credits are called credit transactions.
10) Account: – Account is a statement of any transaction, which affects any assets, liabilities, income or expense.
11) Ledger: – The laser is a book in which all accounts of personal, real or nominal are held, which are in the journal of the journal or assistant.
Types of Accounts:-

1) Personal Accounts: – Accounts of all individuals, societies, trusts, banks and companies are personal accounts. For example – Rahul A /c, Gayatri Sales A / c, Subodh Traders A / c, Bank of Maharashtra A/c.
2) Real Accounts: – Real accounts include all Assets and Goods account. E.g. – Cash A / c, Furniture a / c, Building A/c
3) Nominal Accounts: – All the income and expenses related to the business fall under the nominal account. Eg – Salary A/c, Rent A/c, Commission A/c, Advertisement A/c, Light Bill A/c
Golden Rules of Accounts :-
While transancing, we have to decide on a debit or credit side. Here are the following rules:
Personal Accounts:- Debit : The Receiver or Debtor Credit : The Giver or Creditor
Real Accounts: Debit : What comes in Credit : What goes out
Nominal Accounts: Debit : All Expenses & Losses Credit : All Incomes & Gains
Double Entry System of Bookkeeping:
Each transaction affects two businesses in two ways. for example,
Bought in Goods Cash –

Goods are coming into this business in this transaction but     at the same time cash out of business is going out.

Dutta sold on good credit to traders – Goods

in this transaction are going out of business and at the same time Datta traders become debtors of our business.

According to the double entry system – While recording all such business transactions in the account, there are two aspects: Debit aspect (giving) and Credit aspect (giving).
CBitss Technologies is the best place that provides Accounting courses in Chandigarh. CBitss  Technologies is located in the beautiful city of Chandigarh. Chandigarh is the center of education, so many students from different places or states come to study and make their career bright.
Features of Tally ERP 9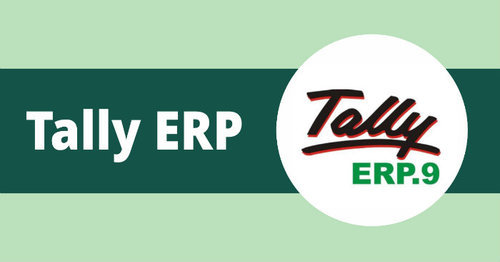 New features in Tally ERP 9 have been included –
Remote Access:
Tally ERP 9 provides the ability to access data via remote from anywhere. The user creates remote user IDs from this scrawl, authorizes and removes access to remote access.
NET (read as Tally.NET)
Tally.NET creates a favorable environment by default, which works backwards to facilitate various services based on the Internet. Each Tally EAP9 is enabled for this .NET service. Tally.Net offers the following services / capabilities – Tally.NET FEATURES:
Creating and maintaining a remote user

Remote access

Remote Center

sport Center

Synchronization of data through Tally (.NET)

Product Updates and Upgrades

Simplified Installation process
Tally ERP 9 comes with a new upgraded installer, which allows the user to configure different settings from the same screen as per the requirements.
Control Centre
Control Center This new feature has been included in the Tally ERP 9. This utility interfaces differently between the installed telly and the user. With the help of the control center you –

Can make a student with the predetermined security level

Centrally Tally ERP 9 can manage and configure

Surrender on the site, Confirm or Reject

Can maintain account related information
CBITS Technologies provides Tally training in Chandigarh. This is a professional course that is useful for existing Tally users who already work on the Tally, also enhances their talent skills. Tally courses in Chandigarh are also for students going to college and professionals working in the field of accounting and finance.